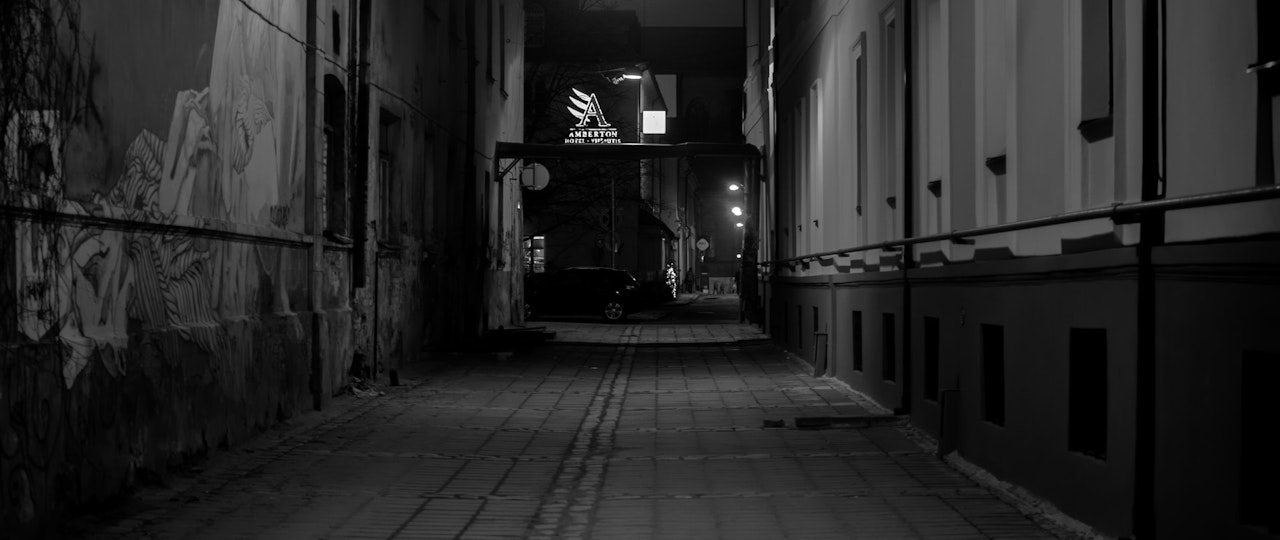 How Safe Is Your Area?
21-03-2018 | Landlord News
Making the decision to relocate or stay in your current property can be difficult. You may need to account for school catchment areas, proximity to your jobs and a range of other factors that are personal to you. Maybe your current area feels less safe than it used to, maybe you have a bad feeling after a house viewing, so whatever your concern, it's worth taking a look at an area's crime rates and statistics.
Over the last 15 years crime rates across England and Wales have dropped. However, this doesn't account for fraud or computer misuse as they were only monitored from 2016 onwards. Even though the use and reliance on technology increases year on year, 2017 saw a decrease in fraud and computer misuse (down from 5583 to 4742).
Source: https://www.ons.gov.uk/peoplepopulationandcommunity/crimeandjustice/bulletins/crimeinenglandandwales/yearendingseptember2017
Some of the key areas you're probably keen to explore when deciding on where to settle include burglary and vehicle-related theft offences. In 2017, burglary was up 8% and vehicle-related theft was up 18%. These are worrying and make it even more essential that you check the specific area statistics for where you live or are looking to live.
Using homicide statistics to decide where to live can also be difficult. Isolated incidents over the years have affected how accurate these statistics are. The terrorist attacks in Manchester and London, combined with the Hillsborough disaster, caused the homicide statistics to significantly rise. So the overall 1% decline over the last year is actually a 10% rise if these incidents aren't accounted for.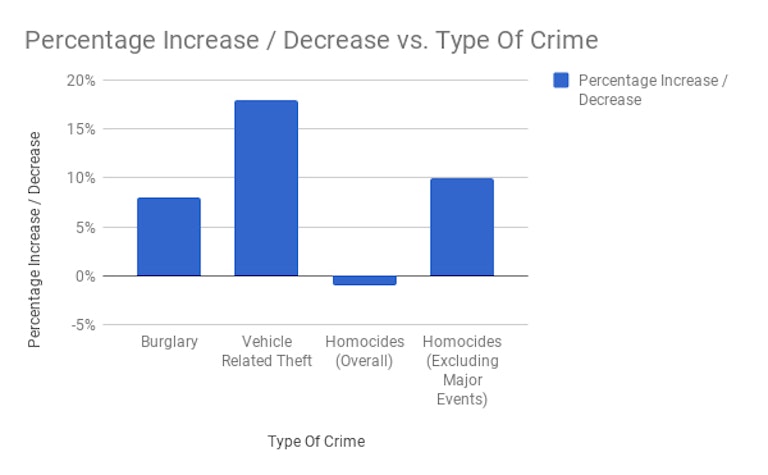 These statistics may concern or worry you but there are many reasons as to why these rates may have increased. Yes, there's the obvious reason, the crime rates have simply increased, but these stats only account for prosecuted crimes. They don't account for better policing, increased vigilance or any other factors that indicated a better conviction rate. If you are concerned there are measures you can take to protect your property and contents. Have an alarm system installed, this not only puts off burglars but also has a higher chance of scaring them off if they do break in. Keep your vehicle in a garage if possible and during the winter months never keep your keys in the ignition to warm the car unless you are with it. These measures can also save you money on your various insurance policies.
By sourcing and reviewing the violence statistics for an area you are likely to see a more rounded view of how safe an area is. With only 650 homicides in 2017, it is unlikely you'll be able to make any accurate conclusions on how safe an area is. These sorts of crimes are so large that it's very rare for them to occur within a single individual's lifetime. This is why it is better to use the overall violence statistics.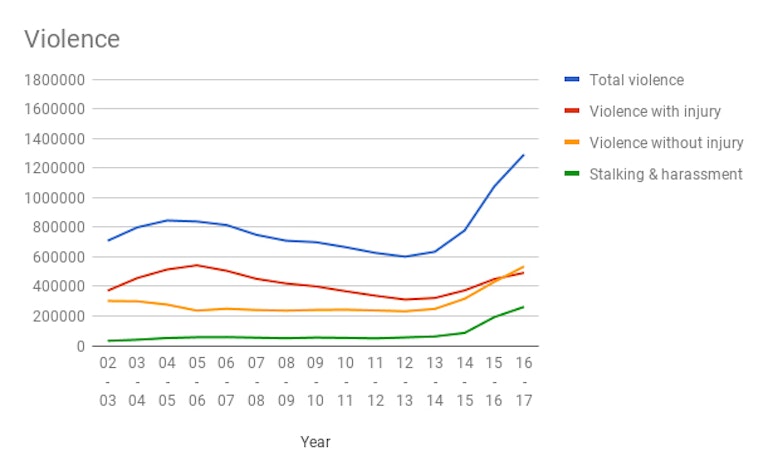 As we can see the last few years have seen a dramatic rise in total violence, of which 41% is made up of violence without injury. The latest figures now account for injury or death caused by dangerous driving. Within the violence with injury section. Up 5% from last year, 2017 saw a 2% rise in deaths and a 9% rise in serious injury from drivers.
With violence on the rise it makes in important to know the areas that are reporting the highest increase in violent crime: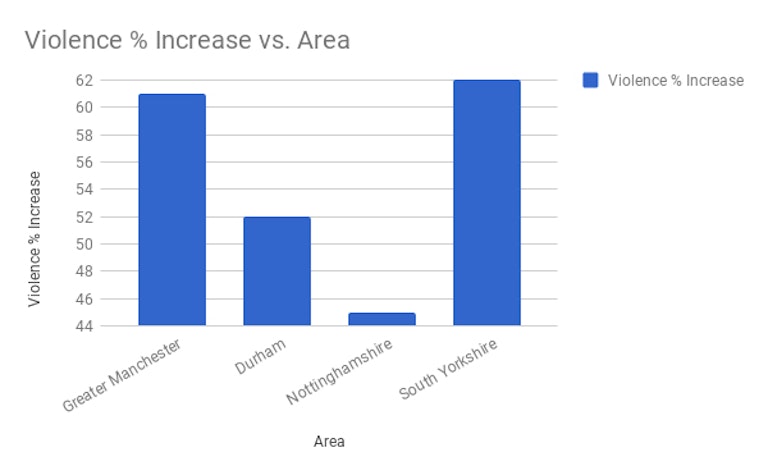 Major areas such as Greater Manchester and South Yorkshire and singular cities, Nottingham and Durham, have seen the greatest percentage increase in violent crime. While no assumptions can be made about whether or not larger or smaller areas are more likely to see an increase in violence, we can accurately say that the larger the area, the more overall violence the area is likely to see.
So if you're looking to avoid violence it maybe worth you moving to a smaller area, compared to a major city.
If you are looking to buy a new property in any area of England or Wales, it is always beneficial to do your research first, especially if you are buying to let. Take out landlords insurance with us for great rates and comprehensive cover for when you might need it most. Our range of insurance options means that your policy will be tailored to your individual needs.
Therefore, if anything happens whether it is with contents, accidental damage or the building itself then you could be covered. Call us today on 01788 818600 to find out the great deals we have on offer.