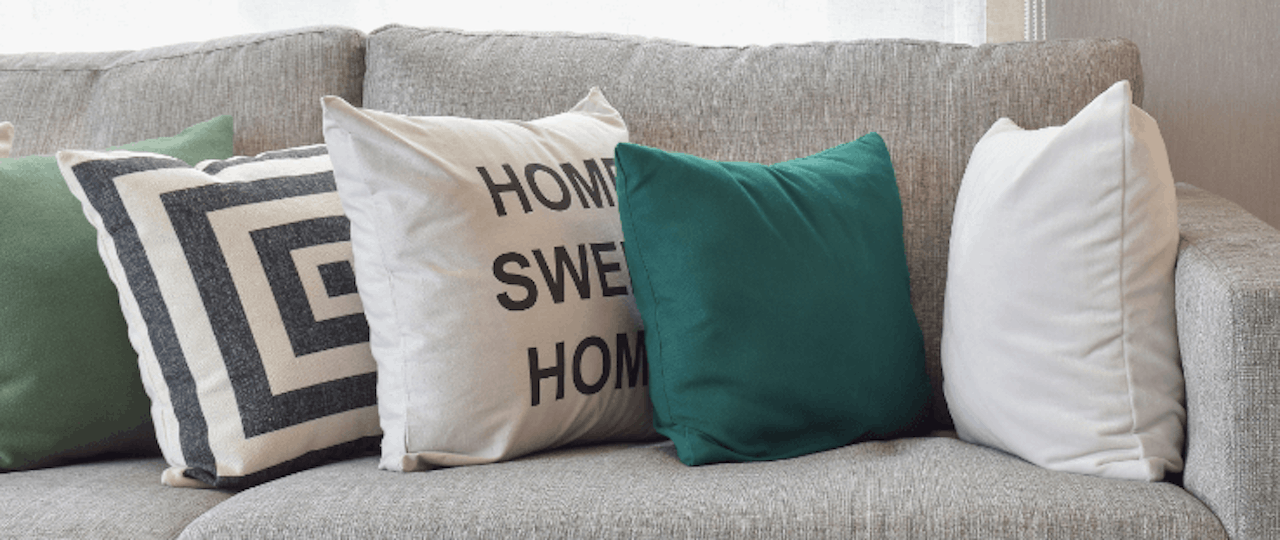 Furnished or unfurnished?
2-02-2021 | Other
One decision that every landlord has to make is whether to rent out their property furnished or unfurnished. There are no hard and fast rules here, and no right or wrong answer. It's completely up to you as a landlord to decide which will work best for you and your target tenants.
That being said, the decision to furnish or leave unfurnished will make a difference to your chances of finding a tenant, and the kind of tenant that you will attract. For that reason, it's important to consider the impact that it has and what this means for you.
What is furnished and unfurnished?
Firstly, let us point out that unfurnished does not mean empty. An unfurnished property will not be completely bare. An unfurnished buy-to-let must still include kitchen fixtures, white goods (cooker, fridge, freezer and perhaps a washing machine), bathroom fixtures, flooring and curtains or blinds. These are simply essentials within any rented home.

A furnished property would include all the aforementioned things, plus perhaps beds, chest of drawers and wardrobes, dining table and chairs and sofas. The basics that a tenant would need in order to live comfortably are the minimum requirements.
As a landlord, you could decide to part-furnish your property. This is completely open to your interpretation. You could include everything aside from beds, or you could even give potential tenants the choice of whether they would like additional furniture included or not.
Part-furnished can be a great middle-ground if you are unsure which option is best for you. Generally speaking, a property should have enough furniture to look 'lived in' and functional, but not so much that the rooms look cluttered as this can be off-putting to potential tenants.
The benefits of renting a furnished property
If you have a smaller property or a flat in particular, it can be really beneficial to rent it out furnished. Furnished properties will often appeal most to younger tenants, students and professionals, people looking for short-term lets or overseas tenants who, generally speaking, will be looking for furnished properties for ease and convenience.
From a tenant's point of view, a furnished property allows them to avoid shelling out for all the furniture they need and it allows them some flexibility if they are perhaps between properties, living somewhere for work or still unsure of where they will ultimately be settling.

From a landlord's point of view, a furnished property may allow you to let your property quicker than an unfurnished property as it may have the edge over the competition, and you may even get a better price as you are offering that little bit more. Additionally, you are able to deduct a percentage of the cost of goods from your tax liability. Deductible expenses include both the cost of the replacement item and the costs of disposing of the old item.
It's worth speaking to a local estate agent who will be familiar with the market. They will be able to advise on whether furnished property is in-demand in your area. This is likely to be true in commuter towns and inner cities.
The benefits of renting an unfurnished property
Generally speaking, older tenants and tenants with families are likely to seek out unfurnished properties. You can assume that they probably have their own furniture that they have collected along the way, and perhaps seeking out a more long-term arrangement, so aim to make their space more personal.

In many ways, this makes life more simple for you as a landlord. You won't be responsible for any of their furniture, and you will have fewer worries around fair wear and tear or damage. And if your tenants are looking for somewhere to make their own and stick around for the long haul, then you can enjoy the benefits of a stable tenancy.
Again, speak to a local estate agent and find out if unfurnished properties are in demand in your area. If you live in a town or village that is popular for families, you may find that unfurnished is the way to go.
If I provide furnishings, do I have to insure them?
Although you are not legally obliged to take out landlord contents insurance on the furniture and other items you provide in your rental property, you are well-advised to do so. Having contents insurance in place means that you won't be left to foot the bill if, should any of your carpets, chairs, tables etc, become accidentally damaged.

Make sure you stay on top of the condition of the furniture and furnishings that you are supplying. Fair wear and tear is to be expected throughout and at the end of a tenancy, however, this can be up for debate as it's difficult to measure.
Always put together a detailed inventory of the property at the start of a tenancy, complete with photographs that show all furniture and furnishings in their current state. Check back on your inventory at the end of the tenancy to decipher whether something is damaged by fair wear and tear, or something more.
Adhering to safety standards
It's also important to note that when letting a furnished property, you must ensure that what you are providing is in good order and safe. All furniture must conform to the legal fire resistant standard, and all fabric furniture such as sofas must have labels providing that they meet this standard.
Although not a legal requirement, it's also advisable to carry out a Portable Appliance Test on any applicable items, showing that you are taking your tenant's safety seriously.
Whether to furnish a property or leave it unfurnished really will depend on your local market, your property and the type of tenants that you are hoping to attract. Although some believe that furnished properties can bring in a slightly higher rent, there's no use getting lured in by this if tenants in your area desire an unfurnished property. Do your homework, speak to an agent or two and base your decision on the demand.
We hope our advice will help you to decide whether to have your rental property furnished or unfurnished. There are many more things to consider as a landlord - including landlord insurance. This can cover you in the event of fire, theft, loss of rent and more. At CIA Landlords, we compare landlord insurance to find you the best deal. To find out more, contact us or get a quote today.